Swashbucko; In the Lair of the Dragon Filth [Beta v.18]
Swasbucko is a timing based fencing game where you have to pick the perfect moment to strike, whilst dodging fireballs, spikes and falling chandeliers.
THIS IS A WORK IN PROGRESS. THE GIF ON THE RIGHT IS SPED UP TO
SHOW AN ENTIRE SCREEN BEING COMPLETED.
The controls are the main mechanic of the game;
You can move left or right with the arrow keys. Pressing Z/X will make Swashbucko jump to the left/right and also enter a fencing stance. While in this stance you can continue jumping with Z/X, jump upwards with arrow key up or press arrow key down to duck - which also exits the fencing stance. If you remain in the fencing stance without doing anything you'll attack after a brief delay. If you duck under an enemy's sword attack, Swashbucko gains an instant attack charge which can be unleashed by pressing space - perfect for getting out of a sticky situation.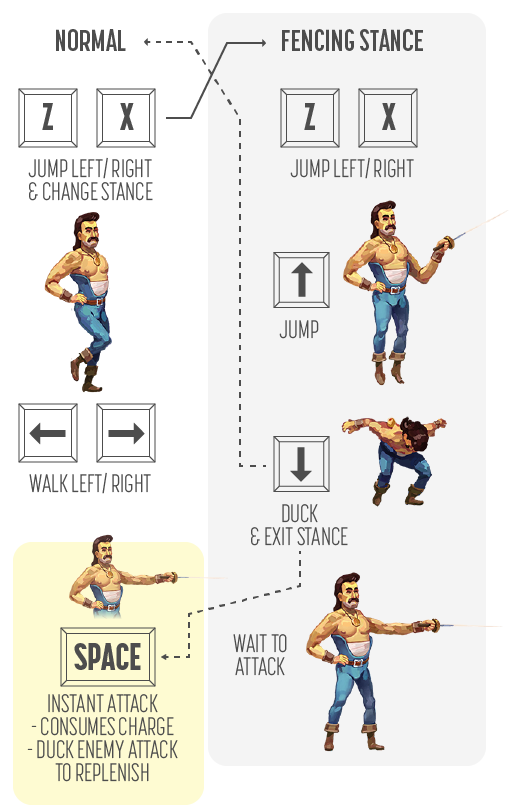 All the hazards Swashbucko must overcome are displayed as icons along a line at the top of the screen and are spawned by a marker, moving from left to right. While this alerts you to when things will happen, there's till some randomness to throw you off balance. You must destroy all skeletons (meaning you'll have to wait untill they have all spawned) before you can exit on the right edge of the screen.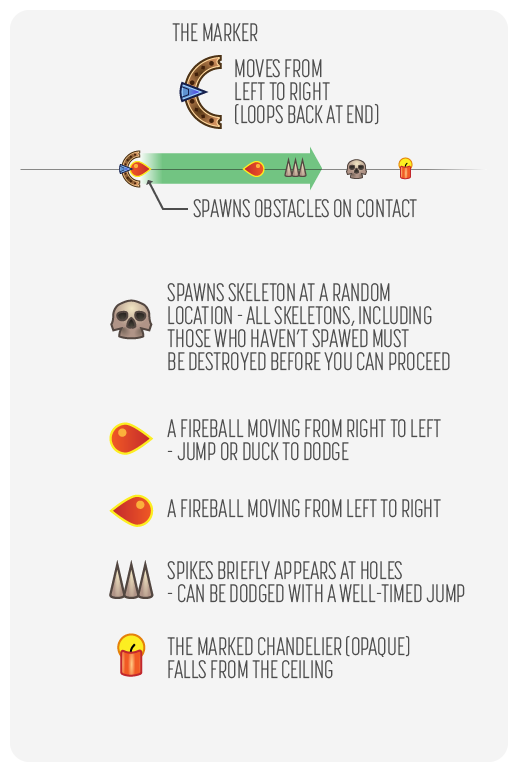 This is intended as a small project so the game part will remain much as is. What remains will mostly consist of finishing the "art" assets, animations and various UI stuff. I will also add some more screens but I'll try to keep the game short.
Made with Clickteam's Fusion 2.5
Thanks for visiting this page - all critiques/suggestion/thoughts etc. are of course welcome!